Tax Levy – MVFD Needs
Cost increases since the district was formed
| Category | 2012 | 2022 | Percentage increase |
| --- | --- | --- | --- |
| Firefighter (wages-top step) | $64,267 | $81,871 | 27% |
| Engine | $471,278 | $607,776 | 29% |
| Ladder Truck | $1,013,273 | $1,349,228 | 33% |
| Medic | $291,384 | $380,392 | 31% |
| Staff Car | $39,107 | $55,178 | 41% |
Increasing Expenses VS Current Funding Model
The current funding model will not sustain the true cost of service based on the needs of the District today.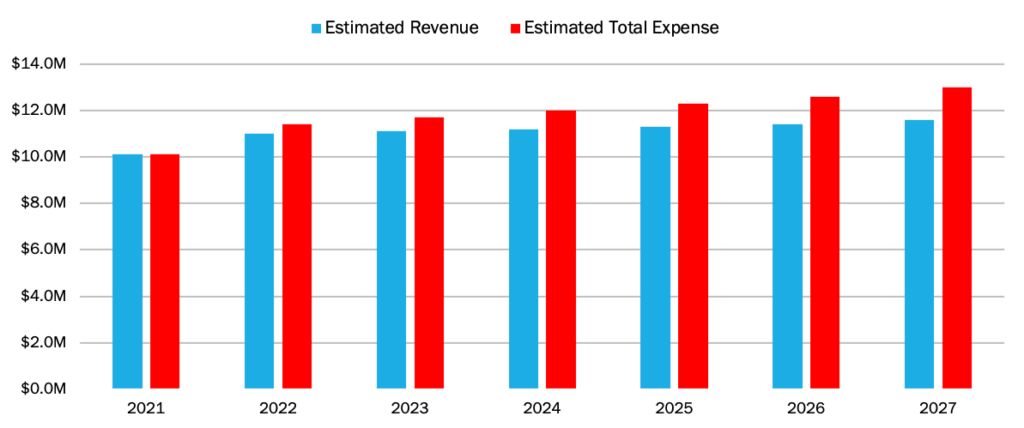 Budget planning
Expected revenue (2023): $13.9M ($12.4M from levy and $1.5M from EMS revenues/grants).
Expected expenses (2023): $12.2M

Station Replacement Project
Location/GIS studies conducted in 2019 & 2022
Current stations are 40-55 years old (except St. 51)

Built for volunteer/part-time workforce.
Locations not reflective of district growth patterns-response times.
Stations need major maintenance, end of useful life.
Modernization needs.

Replacement projects will account for the needs of MVFD today and in future. Locations could be reduced from 5 to 4 if sited strategically.